Carrerra Casting Corporation Revamps Website with Multimedia Solutions, Remains "A Step Above The Rest"
(Edgewater, NJ | August 27, 2012): Multimedia Solutions Corp., a leading web development and digital marketing services firm, and Carrera Casting Corporation, the largest jewelry casting manufacturer in the United States, are pleased to announce the launch of the newly released www.carreracasting.com website.
In redesigning the website, Multimedia's goal was to create a design that would more readily showcase the casting manufacturer's industry and enable quicker communication between Carrera Casting and its customers. By employing a minimalistic approach and adding high impact imagery on the homepage, Multimedia Solutions updated the design of the site with a modern look and feel that highlights the casting process and the evolution of raw materials into fine jewelry.
The site architecture was also overhauled to enable self-serve order submissions, as well as facilitate inquiries on customer shipments and account activity. Built on an open source CMS, the website provides a solid and expandable site structure to empower future economic growth and website functionality expansion.
The launch of Carrera Casting's new website represents the company's statement of Technology, Quality and Confidentiality; and Multimedia Solutions is excited to be a part of bringing Carrera's website, like its products and services, "A Step Above the Rest."
For more information about Carrera Casting and to check out the new website, please visit www.carreracasting.com.
www.carrera.com post website redesign
www.carrera.com pre website redesign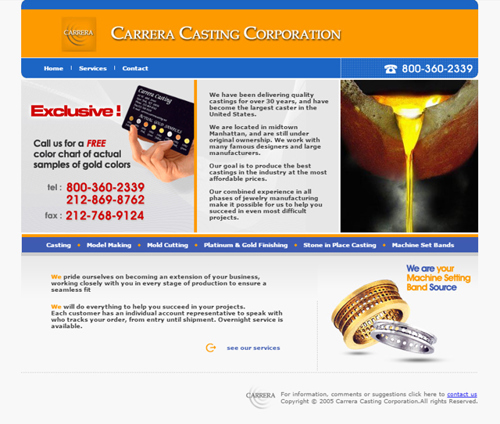 ABOUT MULTIMEDIA SOLUTIONS CORP.
Founded in 1992, Multimedia Solutions Corp. is a leading provider of customer-facing web and mobile solutions. Multimedia Solutions specializes in Website Design and Development, Digital Marketing and Social Media Strategies, and Mobile/iPad Application Development. Our Purpose: to create solutions that transform the way people communicate.