The Dime Savings Bank of Williamsburgh Launches Mobile-Friendly Banking Website with Multimedia Solutions
(Edgewater, NJ | May 11, 2012): The Dime Savings Bank of Williamsburgh and Multimedia Solutions Corp., a leading web development and digital marketing services firm, are pleased to announce the launch of Dime's mobile-friendly website.
Multimedia Solutions developed Dime's mobile website with design considerations focused on the successful integration of a positive user experience. Equipped with a simple interface and swift navigation display, Dime's new website (m.dime.com) has been optimized exclusively for mobile devices, enabling instant access and convenience for consumers on the go.
"Now, when you visit the Dime website (dime.com) via Smartphone (Android, iPhone) or tablet, you will be redirected to m.dime.com, our new mobile-friendly website," said Larry Kinitsky, Senior Vice President of Marketing at Dime.
Dime customers and non-customers alike will appreciate the site's ease of navigation, quick banking tools and informational resources. Features include:
A transactional menu that is tailored for mobile devices

 

A unique branch search tool, which enables you to find nearby branches or utilize your current location (GPS) and instantly connect to them

 

Obtaining branch details, including the address, hours, phone numbers and directions

 

Locate current rates for banking products

 

Learn more about Dime's products and services

 
"We wanted to offer consumers a mobile version of our website that is easier to use, since we are experiencing a rapid growth in connectivity to our site via mobile devices," said Mr. Kinitsky.
To visit Dime's mobile-enabled website on your Smartphone device, visit m.dime.com.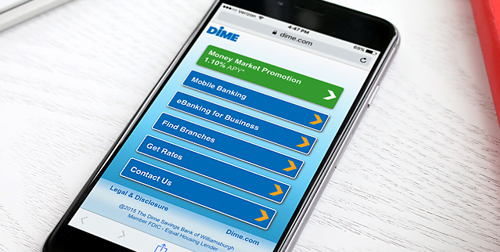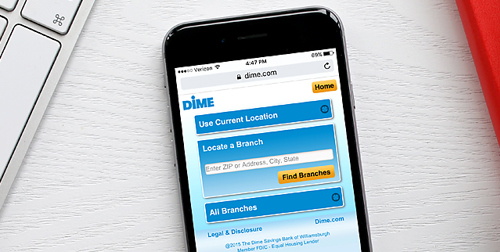 ABOUT MULTIMEDIA SOLUTIONS CORP.
Founded in 1992, Multimedia Solutions Corp. is a leading provider of customer-facing web and mobile solutions. Multimedia Solutions specializes in Website Design and Development, Digital Marketing and Social Media Strategies, and Mobile/iPad Application Development. Our Purpose: to create solutions that transform the way people communicate.
ABOUT THE DIME SAVINGS BANK OF WILLIAMSBURGH
The Dime Savings Bank of Williamsburgh delivers financial services of the highest quality by relying on traditional, time-honored principles like personal service and good, honest value. The Dime Savings Bank of Williamsburgh was founded in 1864, is headquartered in Brooklyn, New York, and currently has twenty-six branches located throughout Brooklyn, Queens, the Bronx and Nassau County, New York. More information on Dime can be found on the Dime's Internet website at www.dime.com..