Multimedia Solutions Launches Website Redesign, 3-D Interactive Map with Saint Peter's Healthcare System
(Edgewater, NJ | October 3, 2012): Multimedia Solutions Corp., recently overhauled Saint Peter's Healthcare System's website (www.saintpetershcs.com) with an updated design and enhanced social media strategy. In addition to a fresh new look, Multimedia Solutions also deployed a custom-developed 3D interactive map and robust "Find a Physician" search function.
Saint Peter's Healthcare System Inc., is comprised of Saint Peter's University Hospital, a 478-bed acute-care teaching hospital; and has been designated by the state of New Jersey as a Specialty Acute Care Children's Hospital, Regional Perinatal Center, and Stroke Center that operates one of the largest maternity services in New Jersey and across the United States.
In redesigning the site, Multimedia Solutions focused on creating a presence that would showcase the healthcare system's many prestigious awards and position Saint Peter's as a first-class healthcare institution. Multimedia Solutions revamped the homepage through the use of high-impact imagery and messaging, while simplifying the overall site navigation so that users can more easily find important information faster. Along with the site launch, Saint Peter's enhanced its social media presence to further increase communications between the healthcare system and the local community, its patients and visitors.
The website also benefited from the development of a highly interactive 3d map where visitors can quickly and easily orient themselves with key landmarks within the institution. The enhanced "Find a Physician" search function also provides much greater intuitive access and interaction with physician content including contact information, directions to physician offices, and physician bios.
Developed using HTML5 technology, the website is also compatible with a broad range of mobile and tablet devices so that users can access the information they need at any time.
For more information about Saint Peter's Healthcare System and to check out the new site, visit www.saintpetershcs.com.
www.stpetershcs.com post website redesign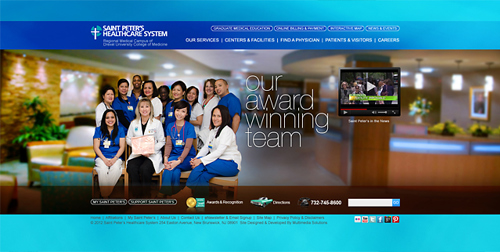 www.stpetershcs.com pre-website redesign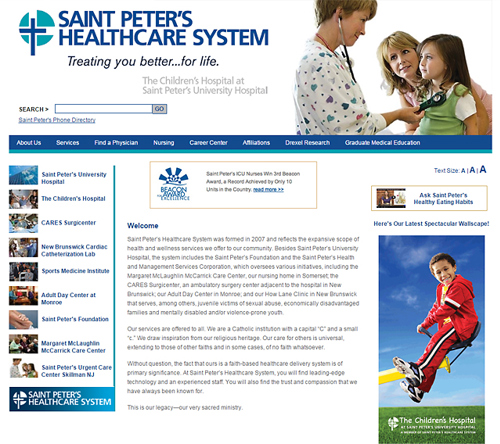 ABOUT MULTIMEDIA SOLUTIONS CORP.
Founded in 1992, Multimedia Solutions Corp. is a leading provider of customer-facing web and mobile solutions. Multimedia Solutions specializes in Website Design and Development, Digital Marketing and Social Media Strategies, and Mobile/iPad Application Development. Our Purpose: to create solutions that transform the way people communicate.