Astoria Federal Savings Launches New Website with Enhanced User Experience, Built by Multimedia Solutions
(Edgewater, NJ | April 23, 2012): Astoria Federal Savings, a subsidiary of Astoria Financial Corporation, and Multimedia Solutions Corp., a leading web design and digital marketing services firm, are pleased to announce the launch of the newly redesigned www.astoriafederal.com.
In addition to an updated look and modernized color scheme, the next generation of the Astoria Web site is designed to promote a stronger brand presence, streamline navigation, and provide easier access to information on Astoria's business and personal banking products.
The home page showcases improved brand positioning and promotional offers through a dynamic content carousel. There is also an enhanced customer log-in area for quick access to account and online banking registration information.
Other notable site improvements include a superior branch/ATM finder with Google Maps integration, social media sharing functionality, and a prominent news & events section featured on the home page that highlights the latest customer announcements.
The launch of the new Web site represents Astoria's promise of "Putting People First" by providing an enhanced user experience for its existing and future customer base.
Astoriafederal.com post Website redesign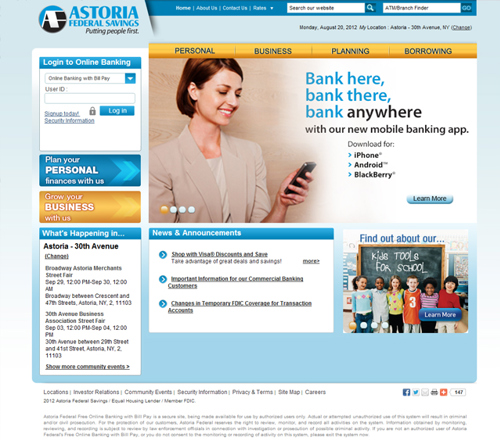 Astoriafederal.com pre Website redesign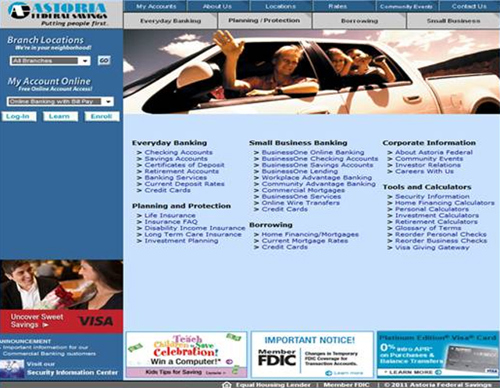 ABOUT MULTIMEDIA SOLUTIONS CORP.
Founded in 1992, Multimedia Solutions Corp. is a leading provider of customer-facing web and mobile solutions. Multimedia Solutions specializes in Website Design and Development, Digital Marketing and Social Media Strategies, and Mobile/iPad Application Development. Our Purpose: to create solutions that transform the way people communicate.
ASTORIA FINANCIAL CORPORATION
Astoria Financial Corporation (NYSE: AF), with assets of $17.1 billion, is the holding company for Astoria Federal Savings and Loan Association. Established in 1888, Astoria Federal, with deposits in New York totaling $11.2 billion, is the largest thrift depository in New York and embraces its philosophy of "Putting people first" by providing the customers and local communities it serves with quality financial products and services through 85 convenient banking office locations and multiple delivery channels, including its enhanced website, www.astoriafederal.com.