J.H. Cohn LLP Launches New Corporate Marketing Website & Insight Center with Multimedia Solutions
(Edgewater, NJ | July 25, 2012): Multimedia Solutions Corp., a leading web development and digital marketing services firm, is pleased to announce the launch of the newly released www.jhcohn.com website.
Multimedia Solutions revamped J.H. Cohn's website to facilitate a positive user experience by implementing enhanced navigation and an intuitive site architecture. The website overhaul touts mutual benefits for J.H. Cohn and its site visitors. With improved organization of content and overall functionality, J.H. Cohn's website fully showcases the firm's expertise and diverse array of services while enabling streamlined navigation for clients, decision makers, and career seekers.
The redeveloped site features notable expansion to J.H. Cohn's Insight Center and its careers section. The Insight Center offers comprehensive access to intellectual property and media including news releases, videos, webcasts, upcoming events and a separate section for economic insight, research and trends.
In addition to updated content, the services pages are now enriched by relevant content extracted from the new Insight Center, presenting additional information, news, and resources pertaining to users' categories of interest.
The user interface of the careers section has been enhanced with an improved search tool, employee testimonials, and recently posted listings for prospective candidates to find what they're looking for with ease. College students and recent graduates can obtain information about recruitment, such as campus visiting dates via the recruiting calendar, or learn more about J.H. Cohn's Learning and Development department.
For more information about J.H. Cohn and to check out the new site, visit www.jhcohn.com.
www.jhcohn.com after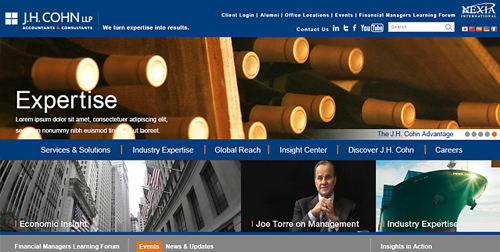 www.jhcohn.com before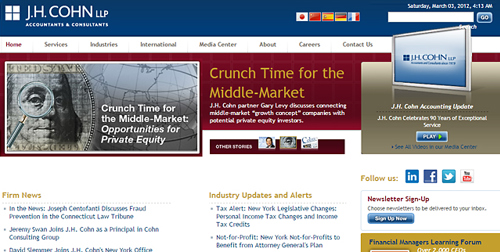 ABOUT MULTIMEDIA SOLUTIONS CORP.
Founded in 1992, Multimedia Solutions Corp. is a leading provider of customer-facing web and mobile solutions. Multimedia Solutions specializes in Website Design and Development, Digital Marketing and Social Media Strategies, and Mobile/iPad Application Development. Our Purpose: to create solutions that transform the way people communicate.