Multimedia Solutions Announces a Major Website Redesign Launch for Dime Savings Bank of Williamsburgh
(Edgewater, NJ | June 4, 2013): Multimedia Solutions Corp. (MSC), is pleased to announce the re-launch of The Dime Savings Bank of Williamsburgh's (Dime) website. The enhanced site launched today.
The new website features an updated look and feel that aims to engage not only Dime's existing customer base but also new prospects. The updated home page of the site features vibrant visuals that will continue to convey Dime's brand identity.
Personal banking customers, businesses or commercial loan candidates will have an energized user experience on the site allowing them to better enjoy Dime's services. Dime's featured products and services, which give special emphasis to seasonal offerings, have all been prominently showcased on the site in order to enhance brand value. They also connect to full page promotional landing pages, which deliver the features, functions and benefits of Dime products and services.
In terms of functionality, the website has been built to be compatible with Dime's growing tablet and mobile user base. Significant, behind the scenes structural changes have been made to drive and sustain Dime's SEO strategy.
Take a look at the site's new look at www.dime.com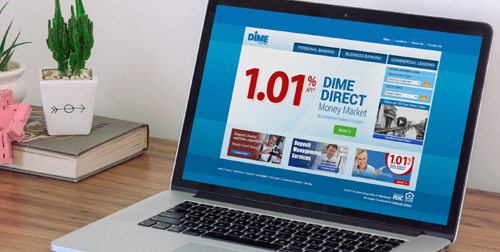 ABOUT MULTIMEDIA SOLUTIONS CORP.
Founded in 1992, Multimedia Solutions Corp. is a leading provider of customer-facing web and mobile solutions. Multimedia Solutions specializes in Website Design and Development, Digital Marketing and Social Media Strategies, and Mobile/iPad Application Development. Our Purpose: to create solutions that transform the way people communicate.
ABOUT THE DIME SAVINGS BANK OF WILLIAMSBURGH
The Dime Savings Bank of Williamsburgh delivers financial services of the highest quality by relying on traditional, time-honored principles like personal service and good, honest value. The Dime Savings Bank of Williamsburgh was founded in 1864, is headquartered in Brooklyn, New York, and currently has twenty-six branches located throughout Brooklyn, Queens, the Bronx and Nassau County, New York.