Multimedia Solutions Corp. Announces Website Design For South Central Connecticut Regional Water Authority
(Edgewater, NJ | May 5, 2014): Regional Water Authority, a non-profit public corporation which supplies 48 million gallons of water a day to over 430,000 customers in Connecticut, recently launched a website redesign with Multimedia Solutions.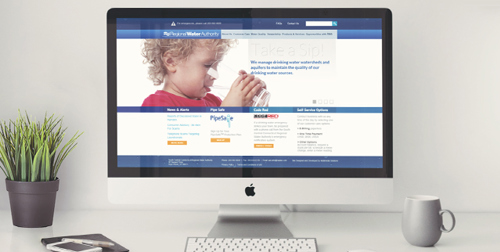 The redesigned site encompasses a simple and clean layout through the use of large scale water imagery. The site also facilitates online bill payment for its customers, and allows for emergency notifications to be featured on the homepage. In addition, a new module has been added that allows potential vendors to register with Regional Water Authority so that they can be entered into a contact database for specialty services.
The site was built using Umbraco as the Content Management System, a robust CMS which allows for content to be updated with ease.
To take a look at the updated site, please go to www.rwater.com to check out the new design.
ABOUT MULTIMEDIA SOLUTIONS CORP.
Founded in 1992, Multimedia Solutions Corp. is a leading provider of customer-facing web and mobile solutions. Multimedia Solutions specializes in Website Design and Development, Digital Marketing and Social Media Strategies, and Mobile/iPad Application Development. Our Purpose: to create solutions that transform the way people communicate.
ABOUT REGIONAL WATER AUTHORITY
The South Central Connecticut Regional Water Authority (RWA) is a non-profit, public corporation and political subdivision of the state. Our mission is to provide our customers with high quality water at a reasonable cost while promoting the preservation of watershed land and aquifers. We provide approximately 48 million gallons of water per day to some 430,000 consumers in 15 communities in our region. The source of this water is a system of watershed and aquifer areas that cover about 120 square miles within 24 municipalities. Much of our 27,000 acres of land is managed for watershed protection, timber resource conservation, wildlife habitat, open space, education, and research.